Should I Repair My Foundation Or Replace It?
Comparing The Advantages Of Foundation Repair Vs. Total Foundation Replacement
Many homeowners feel that if their foundation is cracked or damaged, the logical thing to do is to replace it. However, as with most home repairs, it's important to consider ALL your options if you want to get the most for your money and the least disruption of daily family life.
Whether you choose to repair or replace the foundation, this is a job you'll only want to take care of once. The most important thing is to find an effective, permanent solution from a contractor you can trust.
At Dry Guys Basement Systems, we'd like to help you find the best solution to your foundation problem. We can perform a comprehensive inspection of your foundation, providing a professional consultation and a written cost estimate. If you'd like to schedule a free foundation repair estimate, call or e-mail us today!
What's Causing My Foundation Problem?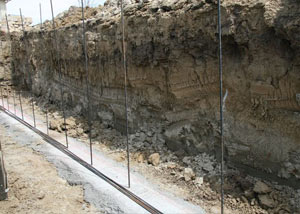 Soil layers tell a story at this building site Egg Harbor Township.
The different types of soil around a foundation will behave in different ways as temperature and moisture conditions change, possibly affecting the condition of the foundation.
In a nutshell, foundation settlement is the movement your home experiences when the soil beneath it shrinks, settles, or can no longer support the structure's weight.
Changes that occur in those soils -- such as drying & shrinking, wetting & softening, compacting and swelling -- all affect the stability, strength and overall condition of your foundation.
A foundation with bowing, buckling walls is demonstrating the damage caused by expansive soils. When clay-rich soils absorb moisture, their volume increases dramatically.
This can increase pressure on your home's foundation walls by thousands of pounds, causing walls to bow and buckle inward.
A home that is experiencing foundation issues is not likely to get better on its own. As the constant cycle of wet and dry periods continues, your home is likely to experience damage on a continuing basis.The sooner the problem is addressed, the better.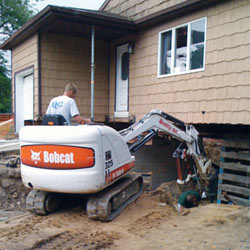 Foundation Replacement
With total foundation replacement, heavy equipment is brought in to totally excavate the soil around your home and expose the foundation.
Anything around the foundation -- such as porches, steps, gardens, walkways, and foliage -- would be removed.
The house would need to be "jacked up" on temporary supports as the foundation walls and slab floor and are removed. After the new foundation is built, the house is lowered into place, the soil is replaced and the landscape details are restored as much as possible.
This process is disruptive, time-consuming, and much more expensive than foundation repair.
More about foundation repair costs.
---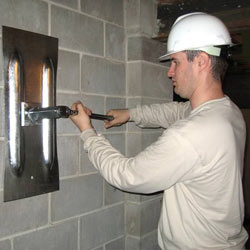 Foundation Repair
Following a thorough foundation inspection, the foundation repair contractor will explain how and why the damage occurred, and how specialized materials and techniques can be used to make permanent repairs.
There are a variety of solutions that can be applied. If you have buckling foundation walls, for example, foundation wall anchors may be suggested as the solution. Foundation settlement issues are often solved with foundation piers.
Foundation repair can be performed year-round, and many repairs just take a day to complete. Our foundation products include a 25-year written warranty, as well as our own performance warranty.
More about our foundation repair products.
Do You Recommend Repairing The Foundation Or Replacing It?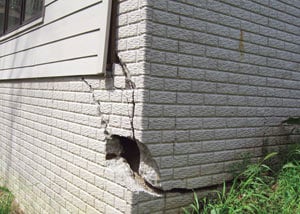 It's important to note that foundation problems can occur in houses of any age, size, and style.
An article from Consumer Reports has shown that an alarming 15% of new homes constructed also experience structural problems.
These problems generally have two causes: poor construction quality, and homes built on poorly compacted fill soils.
While there are some extreme cases where a foundation just can't be fixed, we recommend repairing the foundation whenever possible.
Not only is choosing total foundation replacement extremely disruptive and expensive, it doesn't address the source of the problem: your foundation soils.
Since you've built a new foundation on the same troublesome soil, you can expect the same behavior from that soil -- the kind that will "break" your new foundation just like it did the old one!
What Makes Foundation Repair Better?
A reliable foundation contractor will do more than simply repair a damaged foundation. Their repair strategy will take problematic soils and site conditions into consideration so that the original problems cannot recur.
Push piers, for example, extend deep below your foundation, extending past poor supporting soils to bedrock or competent strata to support your foundation and permanently stop settlement.
Wall anchors reach beyond foundation walls, using the soils outside of your foundation to anchor the walls and counteract inward pressure.
Why Hire A Supportworks Contractor?
At Dry Guys Basement Systems, we are proud to be a respected member of the Supportworks international contractor network and to have our employees trained through the International Headquarters in Omaha, Nebraska. Supportworks is a leading designer, manufacturer, and distributor of foundation stabilization systems for new and existing residential, commercial, and industrial structures.
While the words "integrity" and "quality" are used by most companies these days, Supportworks is a special company where these virtues are reflected in their daily decision making and operation. These values are upheld by their talented and dedicated staff, and by each of the nearly 100 independent dealers throughout North America.
All of Supportworks' foundation repair products include a written manufacturer's warranty, backed by an additional performance warranty from your local Supportworks contractor. When appropriate, products are designed with galvanized steel for corrosion resistance and long-lasting strength.
Call Us For A Free Foundation estimate In New Jersey and Pennsylvania!
As your locally owned and operated Supportworks contractor, we have the tools, training, and professional foundation services you need to permanently solve your problem. Our warrantied solutions can restore the value and structural stability of your home.
We offer free foundation repair estimates throughout our service area. Each written estimate includes an on-site inspection of your problem, professional answers to all your foundation questions, and a copy of our 90-page full-color foundation repair book.
We proudly serve the New Jersey and Pennsylvania area, including Sicklerville, Vineland, Clementon, Coatesville, Downingtown, Havertown, Radnor Township, Drexel Hill, Wayne, Chester Springs, West Chester, Philadelphia, Bridgeton, Cherry Hill, Blackwood, Absecon, Marlton, Sewell, Brigantine, Egg Harbor City, Somers Point, Woodstown, Margate City, Ocean City, Magnolia, Moorestown, Medford, Lakewood, Haddonfield, Toms River, Cherry Hill, Bordentown, and many areas nearby.