Basement Flooding In Vineland, Sicklerville, Clementon
How to prevent basement flooding in New Jersey and Pennsylvania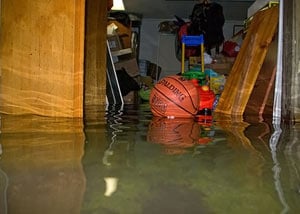 A basement flood can lead to extensive damage to your home and property.
Today's small leak can lead to serious flooding in the future -- don't wait to fix your wet basement!
When your home was built, the contractors designing it never meant for the basement to be a damp, musty, flooding space. But as time and the forces of nature continue to bear down on your foundation, it's bound to leak sooner or later.
Basement flooding is a problem that can be solved quickly (and effectively), provided that you know what you're up against.
Basement Flooding Repair In New Jersey and Pennsylvania
Due to the many ways that basements flood, the variety of solutions on the market, and because of how important it is to be able to count on your basement as dry, usable space, basement waterproofing is best when done by a professional.
At Dry Guys Basement Systems, we specialize in the unique problems that below-grade spaces present. Our installations include a written, transferable warranty that will provide you with long-lasting peace of mind.
Customer Review
"Outstanding work that was completed on schedule. Very good communication..."

By William M.
Pennsville, NJ

"THE WORKERS WERE GREAT AND WORKED TOGETHER WELL-"

By Joe N.
Carneys Point, NJ

"The entire process took only 1 day. The crew led by Filip was excellent..."

"so far I am 200 percent happy!"

By Vincent C.
Mt Royal, NJ

"Great job on the Smart Vents at my home in Mt. Royal and the shore..."

By Ellen C.
Glassboro, NJ

"Your rep that answered my call understood the urgency and said she would..."

By Charles M.
Clayton, NJ

"Scott was great to work with and did a fantastic job, we was able to work..."

By Denise K.
Vineland, NJ

"They were very accommodating,friendly and personable."

"Bryan worked very hard, and worked with us to make sure that everything..."

By Procopio C.
Woodbine, NJ

"Overall, I'm relatively satisfied with Dry Guys. They show up when they..."

By Janet S.
Cinnaminson, NJ

"A great group -- you won't be sorry!"

"Kim and Ian were great to work with. Thank you for a job well done!!"
Get a Free Estimate!
Schedule A Free Estimate
You don't have to solve your basement flooding problem on your own! Our team of professional waterproofers is standing by to provide you with a customized, warrantied solution.
To schedule a free, no-obligation basement waterproofing estimate with one of our specialists, contact us by phone or e-mail today! Our New Jersey and Pennsylvania service area includes Clementon, Sicklerville, Vineland, Blackwood, Philadelphia, Bridgeton, Sewell, Absecon, Marlton, Cherry Hill, Cape May, Pleasantville, Manchester Township, Ocean City, Ventor City and many surrounding areas nearby.
Common Basement Flooding Problems
Basements can flood from almost any point -- including the walls, floor, pipes, windows, and hatchway entrances. The solution to a flooded basement depends entirely on what's causing the flood in the first place.
The articles that follow provide an easy guide to understanding what to do when your basement floods, why it's flooding, and how to solve your unique basement problems.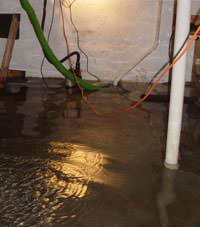 Help! My Basement Flooded!
What do you do when you discover that your basement is flooded with several feet of water? In this article, we guide you through six steps to tackling that flood and solving your problems.
Highlights:
---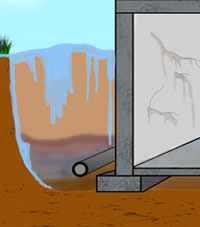 Why Is My Basement Flooding?
Why do basements leak? And why did the basement just start leaking now? In this article, we cover the building science behind groundwater intrusion and basement flooding.
Highlights:
---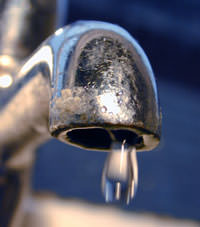 Basement Flooding From Plumbing
When a home experiences a plumbing failure, a basement can fill up like a swimming pool! In this article, we share some simple solutions to prevent a plumbing flood in your basement.
Highlights:
---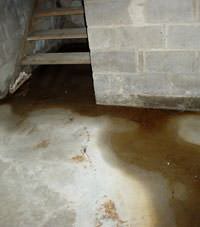 Basement Flooding From Stairways
Water can flow through the hatchway and down the stairs even when a sump pump system is installed. In this article, we explain why this kind of flooding occurs -- and how to prevent it.
Highlights:
---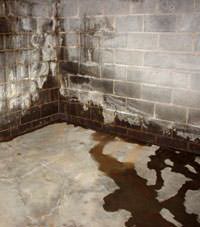 Flooding Through Wall Cracks
Not all cracks in foundation walls are signs of a structural issue. But even a small crack is a big problem if it's leaking. This article takes you through the steps of permanently sealing leaky wall cracks.
Highlights:
---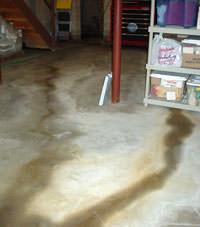 Flooding Through Floor Cracks
What do you do when water is leaking straight up through your foundation floor? Will a perimeter drain system solve this? This article outlines why floor leaks occur -- and how to deal with them.
Highlights:
---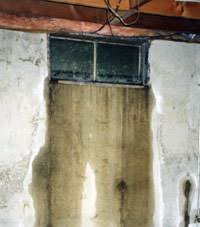 Leaky Basement Windows
When your basement floods through the basement window, it can stain concrete, damage drywall, and soak insulation. This article provides valuable information on solving this issues once and for all.
Highlights: