Crawl Space Repair Company Serving Clementon, Sicklerville, Vineland & Surrounding Areas
New Jersey and Pennsylvania's leading crawl space encapsulation and repair contractors
Crawl Space Vapor Barriers, Support Jacks, & Other Products For A Dry, Healthier Space
Believe it, or not your crawl space plays a very important role in your home's health. If your crawl space begins to rot, grow mold, or experience structural problems, it has the potential to affect every area in your home.
With over 20 years of experience in New Jersey and Pennsylvania crawl spaces, our company has seen it all. At Dry Guys Basement Systems, we offer free crawl space dehumidifier installation and crawl space repair estimates in the New Jersey and Pennsylvania area, including areas like Vineland, Sicklerville, and Clementon.
Symptoms of a Crawl Space Problem
Uneven Floors
Drywall Cracks in the Interior
Heightened Allergies or Asthma Symptoms
Foul Odors in the Home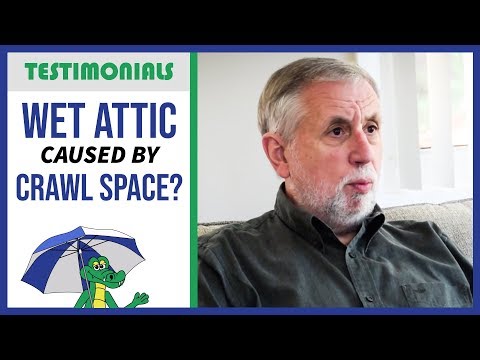 🐊 Wet Attic... Caused By CRAWL SPACE? -...
👉SUBSCRIBE if you liked this information and want more!👈 Crawl Space Encapsulation & Insulation...
Watch Video
Crawl Space Repair Videos
Before and Afters
Before

After

This destroyed and unusable crawl space in Avondale, PA, has been transformed into a safe and useable area thanks to CleanSpace Vapor Barrier and the Dry Guys Team!

Before

After

After Hurricane Sandy, this basement and crawl space combination in Modena, PA, suffered from seepage problems that had caused mold to begin to grow. The Dry Guys Team came in and installed a CleanSpace Vapor Barrier along the walls in the basement and completely encapsulating the crawlspace. These walls prevent water vapor and humidity from passing through. By keeping the crawl space dry, the area is protected from mold and rot.

Before

After

This crawl space in Thorndale, PA, suffered from major humidity problems, due to a faulty waterproofing system and lack of a sump pump. The homeowner was constantly dumping water out of her dehumidifier in a desperate attempt to lower the crawl space's humidity levels. She called Dry Guys after finding out that there were three different types of mold growing in her home because of this. A CleanSpace Vapor Barrier and SilverGlo Wall Insulation were installed to keep humidity out of the crawl space. Also installed was a SmartSump Sump Pump to discharge the water and a SaniDry CX Dehumidifier which not only lowers the humidity levels but drains directly to the sump pump. The homeowner is happy that her home is now mold free and she no longer has to remove water from her crawl space.

Before

After

This Deepwater, NJ crawl space is one of the larger jobs our install team has faced. Protecting against mold and humidity in a crawl space this size would be difficult without the patented products that our company provides. Once a dirty and humid area, the crawl space is now mold-free and at consistent temperature thanks to over 5000 sq ft. of CleanSpace Vapor Barrier and the SaniDry Dehumidifier and Air Purifier.

Before

After

With the installation of CleanSpace Vapor Barrier, this home's crawl space in Greenwich, NJ. Our CleanSpace product is build to last and look great will stopping moisture from passing through. Now the crawl space is safe for storage!

Before

After

Debris falling into the crawlspace in Penns Grove, NJ, has made it unsafe and unusable as seen in the before picture. Thanks to Dry Guys, they not only clean the space, but also installed a CleanSpace Drainage Matting System.

The raised dimples on our CleanSpace Drainage Matting gives the water flooding into your crawl space a channel underneath your crawl space liner. This directs the water flooding your crawl space to your perimeter crawl space drain and sump pump system.

Before

After

These Elverson homeowners were dealing with a wet and damp crawl space, and called Dry Guys for help. Our team had laid down drainage matting in the area, and fully encapsulated the crawl space with our Clean Space vapor barriers and lined the walls with Silver Glo insulation.

Before

After

This home in Chester Heights, PA, experienced high humidity levels in the crawl space. Humidity is capable of serious damage, especially in homes and can cause discomfort, mold, mildew, and even comprise the structural integrity of the home. Wanting to fix this issue, the homeowners called Dry Guys. Our System Designer came out to find what was causing the humidity issue and to prescribe a solution. Having a dirt floor and open vents are easy ways for humidity to seep into the home. To stop this, our team installed our patented CleanSpace Encapsulation System. This product creates a sealed environment, inhospitable to mold. Our one of a kind product called SilverGlo was used to insulate the walls and joists' pockets where 60% of heat loss occurs. SilverGlo is engineered with a polystyrene material and infused with graphite, preventing it from absorbing moisture. There's a thin foil sheet on the front that reflects 97% of your heating or cooling back into your home. The infused graphite gives it a higher R-value than traditional fiberglass. The final step in the dehumidification process is the installation of our SaniDry Sedona air scrubber. This system eliminates humidity in the air and filters out any lingering bacteria. The SaniDry Sedona is designed to be energy efficient yet powerful and even drains directly into the SmartSump for your convenience! Our products work together to create an energy efficient, drier, healthier environment in your home!
Certified Crawl Space Contractors in New Jersey and Pennsylvania
Our certified, highly trained licensed contractors have the experience and products you need when it comes to solving your crawl space problem! Repairing and sealing your crawl space creates a healthier living space, and can save you money on your utility bills. If you choose to encapsulate or seal your crawl space with a vapor barrier, you will gain a valuable storage space in your home at an affordable price.
At Dry Guys Basement Systems we use and recommend products, such as our crawl space dehumidifier and crawl space insulation system, developed by the Basement Systems® International network of waterproofing contractors. Basement Systems® operates a full Research and Development department, constantly searching the industry for the best, most proven products for lasting crawl space sealing solutions.
Basement Systems®, in business since 1987, has over 30 patented products that provide crawl space repair and crawl space encapsulation solutions and include a written warranty. These products have been used at hundreds of dealerships across the United States, Canada, and the United Kingdom.
Your no cost or obligation, free crawl space repair estimate includes an on-site inspection, professional consultation by an experienced specialist, and a written estimate. Before your Free Estimate, we'll also send you a copy of our company's full-color Crawl Space Science Book. Our book includes 88 pages of information on crawl space issues, how they're solved, and what our products can do for you. Call or e-mail us today to get started in the Sicklerville, Vineland, Clementon, Philadelphia, Bridgeton, Cherry Hill, Blackwood, Absecon, Marlton, Sewell, Millville, Chester, Williamstown, Egg Harbor Township, Voorhees!