Basement Waterproofing Company Serving Marlton, Sicklerville, Cherry Hill & Nearby
Basement Waterproofing In New Jersey
Dry Guys Basement Systems has the experience you need to repair your wet basement. Our certified technicians have been getting leaky basement repair jobs done quickly, effectively, and permanently since 1987. Our technicians will find the root of your wet basement problem and provide a solution!
Our company provides basement waterproofing estimates at no cost by highly trained, experienced contractors to all of Southern New Jersey. At Dry Guys Basement Systems, our contractors want to help you make your damp basement a dry usable space, all the time!
General Waterproofing Solutions:
(Click for more information about each solution.)
Through years of research, Basement Systems®, Inc., the world's largest network of basement waterproofers, has developed the most effective and long-term solutions for wet and flooded basements. Their products have been keeping damp basements dry in the United States, Canada, and the United Kingdom since 1987.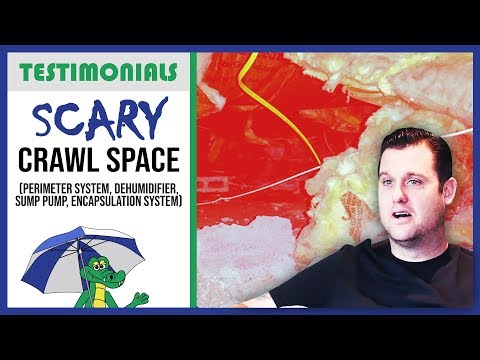 🐊 Scary Crawl Space! (and basement) - Dry...
👉SUBSCRIBE if you like this information and want to learn more!👈 Basement & Crawl Space...
Watch Video
Basement Waterproofing Videos
Before and After
Before

After

This SuperSump Sump Pump System is due for its annual maintenance. Our service technician, Bryan, fully inspected the pumping system to ensure it is performing at optimal performance. This included annual maintenance on the customers' SaniDry Dehumidifer and Air Purifier, and everything was left looking clean and tidy!

Before

After

After witnessing what the SaniDry Dehumidifier and Air Purifier did for his neighbor's basement, this homeowner called Dry Guys to get one installed in his humid basement. Our SaniDry is three times more efficient than common store bought dehumidifiers and is self-draining so it will never have to be emptied. Common dehumidifiers collect between 30 – 40 pints a day while our SaniDry removes up to 110 pints at a lower cost per pint!

Before

After

This failing sump pump shown in the left picture is now replaced by our TripleSafe Sump Pump. Possible reasons why a pump would fail are due to lack of maintenance, power failure, or improper installation.

The Triple Safe Sump Pump System is a top of the line sump pump with three layers of protection. This pump includes a powerful pump with a ½ hp Secondary Pump. These two pumps combined with the UltraSump® Battery Backup System to prevent power failure will keep a basement safe and dry,

Before

After

Carol never knew that the reason she woke up sick every morning was due to the black mold growing below her home in Pennsville, NJ. Upon discovering this, she she found out that Dry Guys' certified mold remediation technicians could help her be rid of the highly toxic fungus. Apon using an anit-fungle spray to remove the mold, the Dry Guys crew went about creating a drier environment which would be uninhabiatble to mold.

They installed a CleanSpace Vapor Barrier to prevent vapor from entering the area and a SaniDry Dehumidifier which also purifies the air up to 2 micron particles while lowering humidity levels.

Carol couldn't be happier with the work done to her home and that Dry Guys went above and beyond what was required.

Watch her testimonial here! "Dry Guys Saved My Life!"

Before

After

This basement in Pennsville New Jersey has issues keeping up with the water coming into the basement. The home already had two sump pumps installed and the owner was looming to get a third. When our System Designer arrived, he discovered that the pumps had been filled with iron ochre ( an orange slime that naturally occurs as a waste by-product in iron bacteria) It was clear that more pumping power wasn't needed, but a system that could handle the gelatinous problem would need to be installed. A combination of our WaterGuard Perimeter System and replacing one of the pumps with our TripleSafe Sump Pump System to correct the issue. Our WaterGuard drainage system features inspection ports that make it easy to maintain and prevent clogging while our TribleSafe has two powerful pumps to keep the basement dry all the time.

Before

After

This home in Salem, NJ, had puddles forming throughout its basement whenever it rained and without a sump pump or drainage system, the water would remain there for days at a time. After a visit from Dry Guys, this home now is equipped with our WaterGuard Perimeter Drainage System and our top of the line TripleSafe Sump Pump System. WaterGuard collects the water seeping into the basement and directs it to the powerful Zoeller 1/3 horsepower pump capable of discharging 2,220 gallons of water per hour. The TripleSafe also includes a backup pump and battery system, reliable in even the worst of conditions.

Before

After

This business in Salem, NJ, suffered from a major seepage issue in the basement of their office due to water pooling, but not being able to reach the sump pump. Before they called the Dry Guys team, this water issue had caused major damage to their valuable electronics and forced time loss to their company. After installing our WaterGuard Perimeter Drainage System and a SuperSump sump pump system, this business now stays dry and has returned back to normal working order. Don't let this happen to you! Call Dry Guys, we CAN help!

Before

After

The basement here is suffering from seepage problems, but it is impossible to install a drainage system in the underground of the perimeter due to the monolithic foundation. A monolithic foundation means that the floor and footing were poured as one piece. Instead of the more common WaterGuard system, DryTrak is perfect for situations where jackhammering the floor is not a viable option. DryTrak is compatible with all foundation wall types, and it will perform equally as well when it comes to waterproofing in basements of different sizes, foundation types, and shapes.
Professional, Certified Waterproofers in NJ
Basement water problems have been around as long as leaky basement themselves. Water will find it's way into a basement any way it can. Basement seepage will occur by any means possible, water can even leak or seep in through walls, floors, and the joints between them. Basement seepage can also occur when water passes through the concrete itself -- which is one reason why basements are notoriously damp, humid spaces.
Unfortunately, other companies might try to sell you on an inferior or cheap basement waterproofing or basement flooding solutions that will not last. Our company's products have been developed, patented, and perfected by Basement Systems®, Inc. Whether you live in Cherry Hill, Marlton, Sicklerville, Williamstown, Egg Harbor Township, Cape May, Absecon, Blackwood, Marlton, Sewell, Hammonton, Voorhees, Cherry Hill, Mays Landing, Cape May, Pleasantville, Glassboro, Haddonfield, Pennsauken, Ocean City, Ocean City, or Magnolia, our licensed wet basement repair specialists will show you how we can customize your waterproofing solution to keep your basement dry all the time at an affordable price!