Warrantied Wall Anchor Systems in Clementon, Sicklerville, Vineland & West Chester PA
Warrantied Steel Foundation Wall Anchors for Bowing, Buckling Walls
If you're experiencing structural problems of any kind with your foundation walls, we're the contractors for you. We have solutions for a wide variety of issues, including the following:
Horizontal or Stair-Step Cracking
Diagonal Cracking at Corners
Inward Bowing or Bulging
Walls Sliding Inwards
Walls Tilting Inward At The Top
Each of our wall anchor systems is custom-designed and installed by our professional foundation contractors.
Get a Free Estimate!
Schedule A Free Estimate
Our wall anchor systems can solve your bowing, buckling wall problems! Call us for a free foundation wall repair estimate today!
We serve Sicklerville, Vineland, Clementon, Philadelphia, Bridgeton, Cherry Hill, Blackwood, Absecon, Marlton, Sewell, Cape May, Pleasantville, Manchester Township, Ocean City, Ventor City, Ocean City, Magnolia, Moorestown, Medford, Lakewood, Haddonfield, Toms River, Cherry Hill, Coatesville, Downingtown, Havertown, Radnor Township, Drexel Hill, Wayne, Chester Springs, West Chester, Bordentown, and many nearby areas in New Jersey and Pennsylvania.
Proven, Warrantied, Corrosion-Resistant Wall Anchors
Our wall anchor installations are designed to install quickly and with minimal disruption to your home and landscaping. Many repairs can be finished in a single day. Wall anchor systems are installed by one of our in-house crews of foundation contractors. Upon the completion of our installation, your foundation walls' inward movement should be immediately and permanently repaired.
Our unique foundation wall anchor system is designed with galvanized steel, allowing for long-term corrosion resistance. Each anchor system also includes a 25-year warranty against manufacturing defects, and each installation includes our own performance warranty.
Supportworks' Geo-Lock™ Wall Anchors effectively restore the structural integrity and value of your home.
Call or e-mail us today to schedule your free wall anchor installation estimate!
More about our foundation repair products.
Supportworks Wall Anchor Products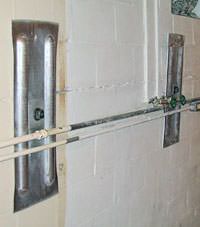 The Geo-Lock™ Foundation Wall Anchor System
This innovative wall anchor system will permanently stabilize your foundation wall by anchoring your walls to the hard-packed virgin soil beyond your foundation.
After installation, wall anchors can often be tightened over time to further straighten your foundation walls and pull them back to their original position.
Advantages Of The Geo-Lock™ Wall Anchor:
Minimal Disturbance to Lawn & Landscaping
Year-Round Installation
Permanently Stops Inward Movement of Walls
Potential To Straighten Walls Over Time
25-Year Manufacturer's Warranty
---
The Geo-Lock™ Channel Anchor System
The Geo-Lock™ Channel Anchor System provides a permanent solution for bowing, buckling, tilting, or inward-moving foundation walls that are demonstrating signs of extreme wall failure.
This warrantied solution includes a complete wall anchor system and a channel anchor that mounts on your foundation floor and wall for optimal bracing and failure protection.
Advantages Of The Geo-Lock™ Channel Anchor System:
Zinc-plated components prevent rust
Immediately stabilize walls pushing in at bottom
Channel connects to earth anchor embedded deep in soil
Installations usually completed in less than a day
25-Year Manufacturer's Warranty
---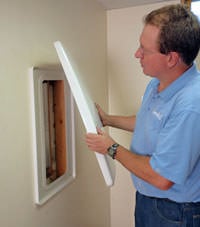 Hide-A-Way® Wall Anchor Covers
If you're planning on finishing your basement after the foundation repair is complete, or you just want to keep your basement looking clean and attractive, Hide-A-Way® Wall Anchor Covers are the perfect solution for you.
Our wall anchor covers are designed specifically for our Geo-Lock™ Wall Anchor System. Thanks to the cover's snap-on design, it can provide quick, easy access to wall anchor tightening bolts, so that further adjustments on the wall anchors can be made.
Advantages Over Stone, Ceramic, and Marble Tile: