Watch My Video
Customer Reviews
About Me
By Habitat For Humanity Salem County
Carneys Point, NJ

"Very quick to respond... Very helpful! Kind. Knowledgeable. Job was well done, no issues. Chose Dry Guys for their reputation..."

By John L.
Bridgeton, NJ

"Great experience! 1st class!"

By Brenda P.
Woolwich, NJ

By James F.
Gibbstown, NJ

By Kathleen C.
Mullica Hill, NJ

"The installation crew even offered to help bring in my groceries when I returned from the store. I truly have never met a more..."

By Greg C.
MULLICA HILL, NJ

By Sharon C.
Runnememde, NJ

"Jason, Steve & EJ all did a wonderful job, they all were very polite, clean, and did an awesome job on the project. This was..."

By Janet M.
Williamstown, NJ

"I appreciated that my needs were being met. There was never a push to purchase, more time was spent on educating me on the..."

By Philip A.
Maple Shade, NJ

"I can only hope that Jason, Steve and EJ win the WOW! Service Award. They were fantastic. Too all from DryGuys, JOB WELL DONE!"

By Janet S.
Cinnaminson, NJ

"A great group -- you won't be sorry!"
Kim Gattuso

from

Dry Guys Basement Systems
Title:
Special Projects Manager
Hometown:
Woodstown, NJ
Kim has been with the company since 2006, and was promoted from generic office staff to Call Center Lead in 2008. Since then she's held the titles of Marketing Director (2009) and Sales Manager (2016), and since 2011 has also taken on the tasks of Human Resources and Team Building within the Company. She is currently our Special Projects Manager and works closely with Dan, handling all special projects within the Company, including customer relations and employee growth and development. Additionally, Kim helps the System Design Team with training, back end office help, and also runs appointments and is our "ride along" specialist with our System Designers.
You can catch Kim on one of our jobsites, keeping an open line of communication with customers as well as working with the Production and Marketing Teams, on-site during and after installs, too. You may also get to speak with her when you call into the office, as she helps our Customer Service Reps with continuing education and training!
On a personal note, Kim is on the Board of Directors for Habitat for Humanity of Salem County. She is on the Business Education Committee for the Salem County Chamber of Commerce and is the Educational Coordinator for Mullica Hill Networkers (BNI) and a previous Ambassador within the BNI organization. She is also very active as a Ladies Auxiliary member for the Army Navy Unit #53 out of National Park, NJ and in 2014 was elected Senior VP of the organization. She is originally from Camden County, but currently resides in Woodstown, NJ with her daughter, Isabella.
In 2012, Kim earned the Trademark Who's Who for the 40 Under 40 category, and in 2014, Kim earned the Small Business Leader of The Year award through the Salem County Chamber of Commerce.
She has been a great addition to the family here at Dry Guys and has excelled in customer relations and client services throughout her career with us.
Recommendations from LinkedIn: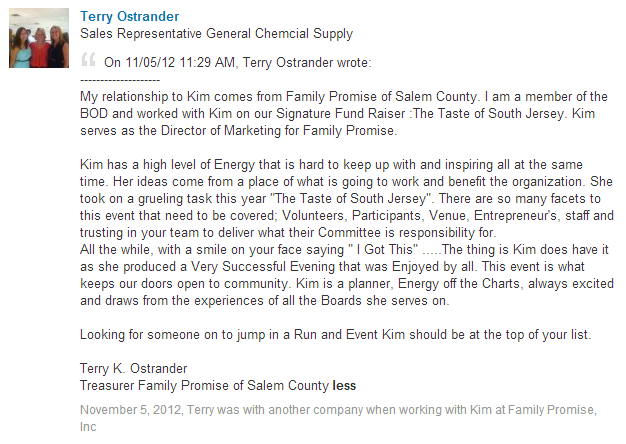 LinkedIn Profile : https://www.linkedin.com/in/kimgattuso
Personal Facebook Profile: https://www.facebook.com/kim.dryguys?fref=ts
Company Facebook Profile: https://www.facebook.com/Dry.Guys
Videos from projects I was involved with: